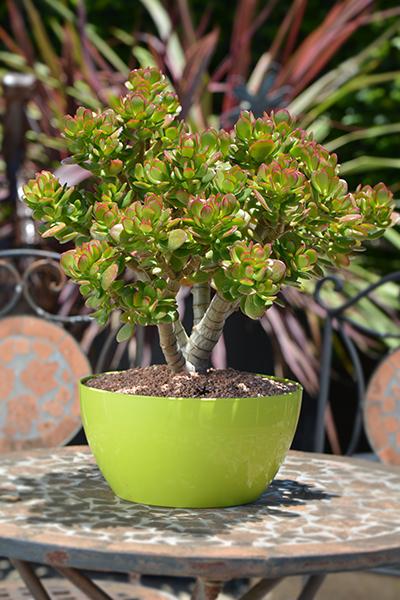 Common Name
Lucky Jade; Money Tree; Friendship Plant
Description
 A selected form of Crassula ovata grown for its compact habit and exceptional pot performance.  Foliage develops a red leaf margin during the year under dry or stressful conditions.  With gardens becoming smaller and pots being used in the home environment, correct plant selection for long term use becomes a key ingredient for success.  Introduced into the market by Glenfield Wholesale Nursery in 2014. A naturally occurring sport for an in-house variety.
Flowers
Over the autumn and winter months, showy clusters of white and pink small flowers appear above the foliage.
Height
60cm. Height is controlled by container size and trimming.
Usage
Standout selection for small to medium containers, balconies, patio's or in and around courtyards. Bonsai-style subject. Indoor use. mini Jades make great wedding gifts or favours.
Features & Benefits
Suitable for growing indoors.  When grown indoors keep moderate to bright light, water plants thoroughly and evenly and allow to dry completely between watering.
Share