back
OVERWATER OVERLOAD!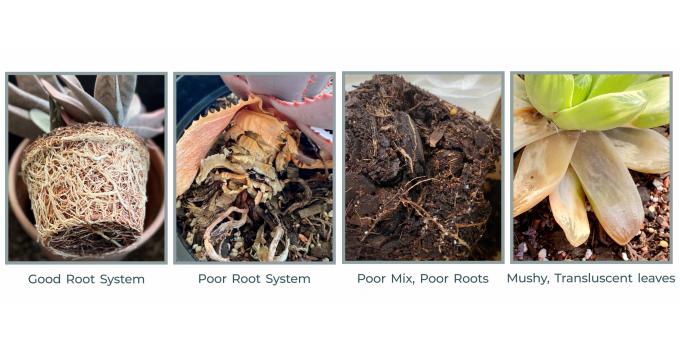 Damaging the roots of succulents by over watering can result in a poor root system or worst still, No roots at all.

INTERESTING FACT
Using the right fertilizer can help to reduce water consumption.
Soil that is constantly wet, loses its form or structure, lacks air and the plant can't breathe properly. deterioration of the roots continues to occur.

OUTCOME
Growth can be reduced
Plants show a decline in appearance, lack of vigour
Plants wilt
Leaf drop: soft, mushy translucent leaves or leaves turn black and start to rot
Collapse of plant
Plant dies

KEY POINTS
PREVENTION IS THE BEST MANAGEMENT.
The better the culture of the pot plant, the greater the benefit from disease elimination.
REVIEW WATER PRACTICE
More plants die from overwatering than under watering. Can be as simple as reducing the frequency of watering. Watering can be the greatest challenge. The effort put into getting it right is worth the reward.
CONTAINER SIZE
Container grown plants usually have a smaller root system than the same plant grown in the ground. "Please don't overpot. A little plant in a big pot doesn't work, doesn't look right."
POTTING MIX
"Am I using the right mix for the plant?" A good growing media must provide plants with nutrients, water, oxygen, room to grow and minimal risk of disease.

TIP: Always use gloves when handling the potting mix.