back
TABLE TOP TOPIARY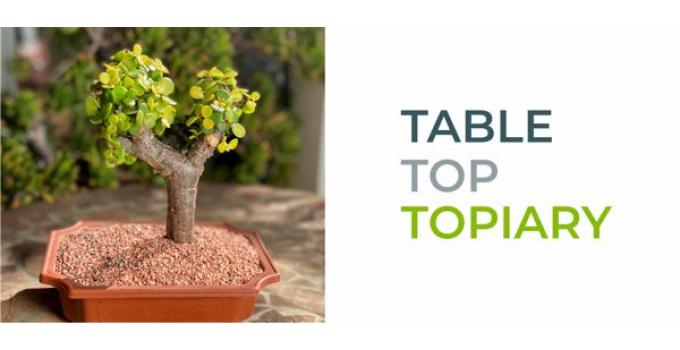 SIMPLE, EASY, FUN TO GROW!
TOPIARY
Practice of training plants by trimming the foliage to develop and maintain clearly defined shapes.

TABLE TOP TOPIARY
Selecting plants that can be trimmed and shaped in containers especially smaller type containers for tops of tables.

PORTULACARIA AFRA AUREA
YELLOW RAINBOW BUSH
Slow growing shrub ideal for containers and trimming, well suited to smaller type containers, can be multi planted for faster results.
Trim regularly + shape as you go
Full sun, low fertilizer, minimal water
Great plant for confinement in containers
Well suited to Bonsai
Sometimes Portulacarias are labeled 'Miniature Jade' (But let's not encourage that) Commonly called 'Spekboom' in its native South Africa

BENEFITS - THRIVES OUTDOORS
Warm, sunny climate, high humidity and rainfall, grows in places like Florida, Hawaii and Mumbai. Protect from heavy frost.

PESTS AND PROBLEMS
Nothing Significant