back
WHAT OTHER FACTORS INFLUENCE ANTHOCYANINS?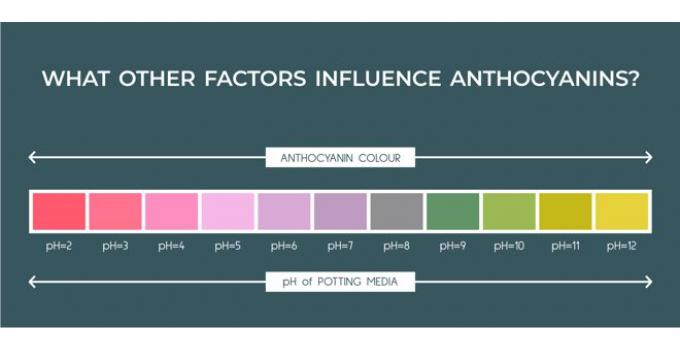 pH
I believe after researching the subject, trialling and observation that anthocyanins can change their colour plus the amount within the leaf depending on the pH of their environment. Lower pH, acidic soil below 7, the anthocyanin is more reddish purple and more likely to turn green in an alkaline environment, above a pH of 7.
OBSERVATIONS
TEMPERATURE
Leaf colour increases with a decline in temperature and the onset of flowers in winter
DAY-NIGHT TEMPERATURE DIFFERENCE
Leaf colour increases where there is a differential in night temperature over day temperature, of say 10°C
PEAT & pH
A potting mix with peat and a lower pH increases the likelihood of more anthocyanin expression
DRYNESS, HEAT & LOW FERTILITY
Increase anthocyanin expression in summer
SHADE
Shade and growing Crassula (Jades) indoors reduces the plants needs for anthocyanins
ACTIVE GROWTH & FERTILISER
Active growing plants with a high fertiliser availability have a lower need for anthocyanins
CONCLUSION
What does this tell me? A lot to consider, take in and observe when growing Crassula (Jades) to
perfection, especially an understanding of leaf colour and the factors that effect it.
PLANTS SHOWING GOOD ANTHOCYANIN EXPRESSION