back
TABLE TOP TOPIARY - TRIMMING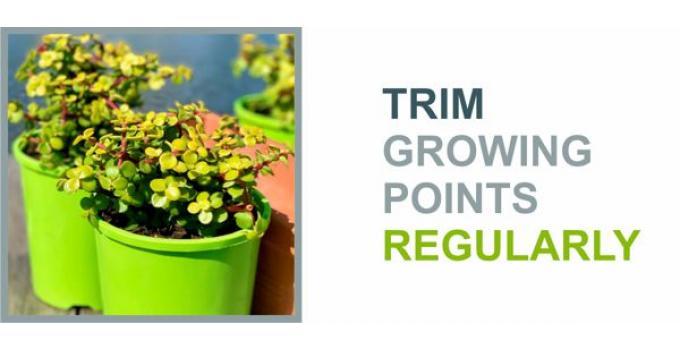 There are two reasons to trim Portulacaria Topiary
1. Shape and style the planting
2. Maintenance
QUESTIONS
Q - How often do I trim it?
A - During the growing Season. Late Spring, Summer, Early Autumn.
Q - How often do I feed it?
A - Spring and Autumn
Q - What do I feed it with?
A - Controlled release fertilizer, Organic pellets + High K Liquid feed*
Commercial potting mix with 10% perlite
* A liquid feed rich in Potassium
TOP TIP
Regular trimming keeps the plant compact. Don't leave a long gap between trimmings to
avoid elongation of the internode spaces.
OTHER VARIETIES SUITABLE FOR TABLE TOP TOPIARY
TO MAINTAIN THE TOPIARY
Trim Regularly, trim often to get small, petite leaves.

STEP 1: Trim just above the node
STEP 2: Two new branches will grow from the cut stem
STEP 3: Let the new branches grow another set of leaves, then trim down to the first pair of leaves for that branch.
STEP 4: Two new branches will grow from each of the trimmed stems. Each branch will divide again and grow. A continual process of removing the growing tips is required to keep the leaves small and petite.