back
POTTING MIX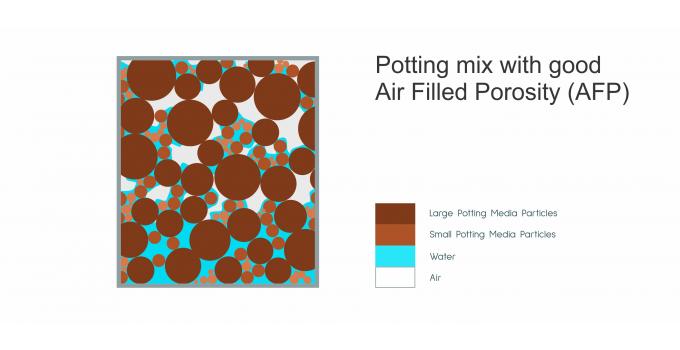 1. Provide Anchorage + support
2. Provides water and oxygen to the roots
3. Supplies nutrients
A potting mix or potting media is made up of fine, small, medium and some large particles
of inorganic (sand, perlite, pumice, zeolite) and organic (peat, coir, bark) materials to name a
few. Let's call them solids, they are interspaced with pores. We also need air and moisture.
A good potting mix that is going to work for you requires pore space for air.
Plant roots need oxygen to stay healthy and to do their job of gathering water and
nutrients for the plant growth. If air is unavailable, roots fail, they cannot function properly,
even a temporary shortage can reduce roots and shoot growth.
The two main causes for lack of air in potting mix are OVER WATERING & COLLAPSE of the
physical properties of the mix, both result in excessive moisture.
Good structure cannot be bought.
YOU THE GROWER need to maintain structure.
TIP: Always use gloves when handling the potting mix.
AIR AND WATER HELD IN THE POTTING MIX IS DETERMINED BY A FEW THINGS
THE SIZE OF THE CONTAINER
Drainage is influenced by media height and gravity. Taller containers drain more and
consequently have more aeration.
HOW YOU THE GROWER HANDLE THE POTTING MIX.
This is as simple as how you put the mix into a pot and how hard you press.
Compaction reduces air space, increases the risk of excessive moisture being held.
WATER PRACTICES OR WATERING ROUTINE
So what is the easy answer to pore space and air quantity when potting mix has a
range of particle sizes where the shape, texture and internal porosity of the particle
vary as well as their size, making it hard to get an accurate answer.
GURU COMMENT - SIMPLY OBSERVATION, EXPERIMENTATION, unfortunately some failures.
Root growth, if the roots are happy the plant is happy. When you find a good potting mix, one you can make yourself or a commercial brand, stick with it.
REMEMBER
Making your own potting mix is like making your own soup. You can identify the ingredients
before they go in then they combine to create their own flavour. When you make your own
potting mix the chemical and physical properties of the components are combined into each
other to form new properties that are different from the individual ingredients.
Learn to shift your thought process from ingredients going into the mix to the properties of
the mix you have created.
Manage the potting mix to the plants you are growing, your environment, your water
practices.
Consider the seasons, the pot type.
You can partially offset poor aeration in potting mix with good management and
understanding of what you want to achieve.
The wrong plant, in the wrong pot, in the wrong environment, in the best potting mix is
going to struggle or not survive at all.
FINALLY
Uniformity and consistency across all your potted plants is key to success. Resist the
Temptation for constant change. If you must try a new mix, do it in small batches for a
period of time. Remember, you are starting again.